United Way of Midland Business United Circle
Small businesses play a critical role in maintaining a thriving local economy, and people want to shop at businesses that do good in the community. We all benefit when children succeed in school, families are sustaining employment and our community has access to the resources needed to live healthy lives. That is why United Way of Midland is pleased to offer an investment opportunity that is good for your business AND your community.
Turn Your Dollars Into Change
United Way of Midland invites your business to play a part in promoting lasting, positive change for all in our community by joining our Small Business United Circle. What we are doing together works and we need your help to make it work on a larger scale. We are encouraging local businesses to join this movement and help increase the impact of the United Way of Midland to meet the growing demands of our community. Every time someone decides to give, it inspires someone else to get involved. When we all contribute, we can get everyone in our community standing on their own.
Stand with Us and Let's Get Everyone on Their Feet
We invite you to become a member of United Way of Midland's Business United Circle through one of the levels below. You can reach these levels through a Business Owner Contribution, Business Owner Contribution & Employees' gifts, a Business Sponsorship for a United Way of Midland event or project, or through point-of-sale giving.
United Way of Midland Business United Circle Levels: 
United Way partner decal sticker
All benefits listed below (depending on level of giving)
Special recognition for those partners who have 75-100% participation in workplace campaign
Gift of $1 per day or Annual Gift of at least $365
United Way supporter decal sticker
Recognition on United Way of Midland social media and Annual Report
Gift of $100 per month or Annual Gift of at least $1,200
United Way supporter decal sticker
Recognition on United Way of Midland social media and Annual Report
Recognition on Website
Gift of $210 per month or Annual Gift of at least $2,500
United Way supporter decal sticker
Recognition on United Way of Midland social media and Annual Report
Recognition on Website
Recognition at Annual Campaign Celebration 
Gift of $420 per month or Annual Gift of at least $5,000
United Way supporter decal sticker
Recognition on United Way of Midland social media and Annual Report
Recognition on Website
Recognition at Mid-Campaign and Annual Campaign Celebrations
Recognition plaque of sponsorship to display at your company  
Gift of $835 per month or Annual Gift of at least $10,000
United Way supporter decal sticker
Recognition on United Way of Midland social media and Annual Report
Recognition on Website
Recognition at Mid-Campaign and Annual Campaign Celebrations
Recognition plaque of sponsorship to display at your company  
Company recognition at all United Way of Midland Special Events
Gift of $1,667 per month or Annual Gift of at least $20,000
United Way supporter decal sticker
Recognition on United Way of Midland social media and Annual Report
Recognition on Website
Recognition at Mid-Campaign and Annual Campaign Celebrations
Recognition plaque of sponsorship to display at your company  
Company recognition at all United Way of Midland Special Events
Two tickets to attend United Way of Midland Annual Campaign Celebration
Two tickets to attend United Way of Midland Power of the Purse Fundraiser
Business United Partners: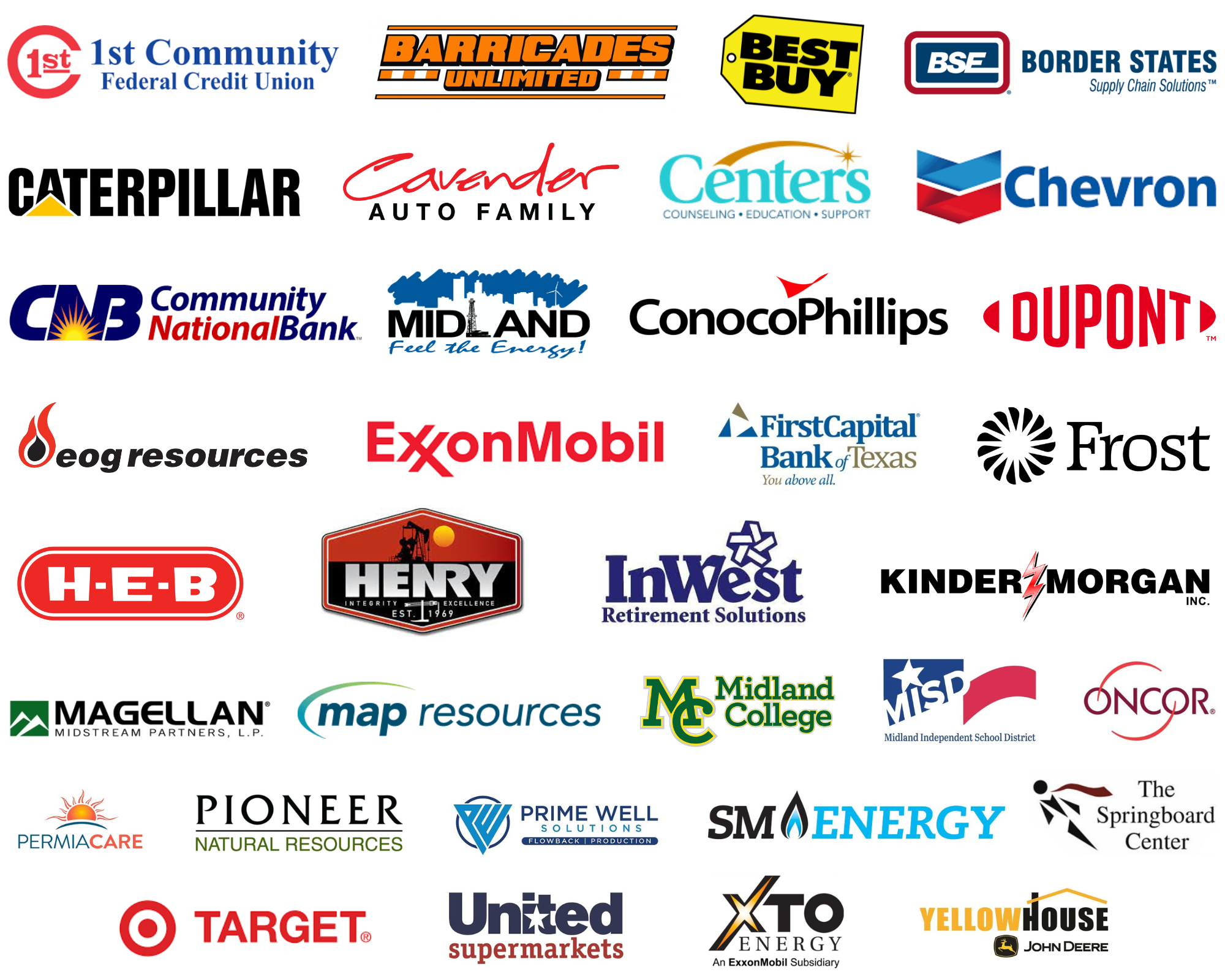 For more information on how your company can partner with United Way of Midland, please contact Candice Escamilla at 432.685.7716 or email cescamilla@uwmidland.org